Miscellaneous English translations of Rilke poems, including "Herbsttag" and "Leda" (published in Esoteric Magazine, University of British Columbia 2005, p. 26)

Three Spanish translations from:
Das Studenbuch, Die Neuen Gedichte & Das Buch der Bilder
Translation of Volksweise into French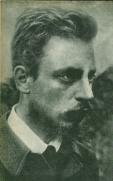 Click on icon for photo of Rilke (circa 1898) . Click here for miscellaneous Spanish translations (published in Ex Tempore XV, pp. 149-151)
From December 1912 to February 1913 Rilke housed in the Reina Victoria Hotel in Ronda, Sapin, where he wrote part of the 6th Elegy and a dozen other poems including the wonderful "Spanische Trilogie". The Hotel has a small Rilke museum with interesting memorabilia in room 207, from where Rilke enjoyed the magnificent panorama of the Andalusian mountains. On 31 March 2007 Carla took this picture of me, next to Rilke's bronze statue in the hotel garden, and sitting at what may have been Rilke's desk.